Red Hot Arts Central Australia (RHA) is a regional non-profit arts organisation who provides accessible spaces, workshops, advocacy and events to support artists and arts workers in Central Australia. Based in Mparntwe/Alice Springs, we have been building artistic capacity, delivering key regional events, and contributing to the growth of the Northern Territory arts sector for over 15 years.
Desert Festival, our annual signature event, is an 11-day multi arts festival, showcasing and celebrating local and regional arts and content. Desert Festival is the only event that provides a multi-disciplinary platform for Central Australian artists from diverse cultural backgrounds across all artforms, while also providing employment, mentoring and capacity building for local staff and crew. Desert Festival contributes to local social capital, participation and community wellbeing, critical for unity and connection, and plays a vital role in centering and celebrating diverse voices such as First Nations, LGBTQI, disability, women and CALD communities.
Our core activities include arts development, support and advocacy, advertising and promotion, venue and equipment hire, auspicing and event delivery. By fostering artistic innovation, empowerment, intercultural awareness, and income generation, our programs and services:
Facilitate positive social, cultural, economic, and health and wellbeing outcomes
Contribute to local employment, tourism, economic development and sustainability
Enhance and facilitate community engagement and social inclusion
Provide professional development and capacity building opportunities
Foster artistic innovation and experimentation in the Northern Territory
Promote local and state identities as arts and cultural destinations
We are committed to the development of the Northern Territory creative industries and are passionate believers in our regional communities, whose creative spirit makes Central Australia the unique and intriguing place that it is.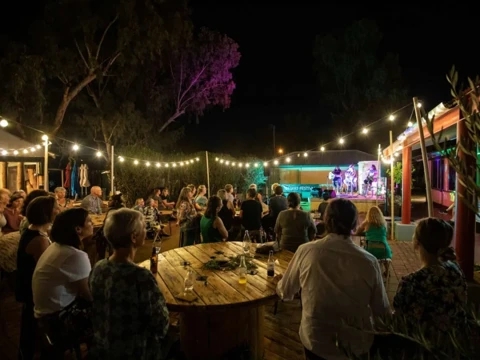 Our History
Red Hot Arts Central Australia was founded in 2009 as a result of Red Hot Arts Marketing and Alice Desert Festival merging.
Red Hot Arts Marketing began as an Arts NT project in 1999, designed to support artists, arts organisations and the wider arts sector with marketing and industry development support in Alice Springs.
Alice Springs Festival was founded in 2001 and was Central Australia's first major annual arts and cultural festival. It was created by the local community to be a nationally recognisable platform for events in Alice Springs in the tourist shoulder season. Alice Springs Festival incubated several successful events that are now stand alone festivals, such as Desert Song Festival.
In 2004, the festival was rebranded to become the Alice Springs Festival of the Desert, later shortened to Alice Desert Festival in 2005 and officially becoming Desert Festival in 2017.